USDA Farm Service Agency County Committee Elections to Begin Monday, Nov. 3.
Enrollment Continues Through Dec. 5; Comments Accepted Until Dec. 15.
Farmers can Update Yield History and/or Reallocate Base Acres through Feb. 27, 2015;
Producers Select the Safety Net Program Best for Their Operation Beginning Nov. 17, 2014 through March 31, 2015

FSA and OSU Extension Service Host Dairy Margin Protection Program Meetings.
The FSA and OSU Extension Service have teamed up to present information that will help farmers learn more about the 2014 Farm Bill's Dairy Margin Protection Program (MPP) and the decisions dairy producers must make by Nov. 28 if they want to participate in the program in 2014 or 2015.
Producers can register to attend any of the free dairy meetings online at
go.osu.edu/2014dairyfarmbill
or by contacting your local OSU Extension Service or your FSA County office.

For the latest on 2014 Farm Bill programs administered by FSA, please visit our Farm Bill website at
www.fsa.usda.gov/farmbill
.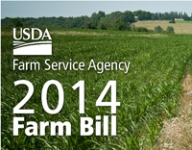 In Ohio, agriculture is a huge industry. One in seven Ohioans are employed in the food and agriculture industry which contributes over $98 billion to the state's economic growth.
Ohio's top commodities include: soybeans, corn, wheat, tomatoes, cucumbers, grapes, Swiss cheese and egg production.


The Farm Service Agency (FSA) provides federal program benefits to Ohio's farmers and producers' in terms of loans for operating and land purchase, commodity price supports, disaster relief, emergency assistance, conservation and other needed agriculture support efforts.
Through these activities, FSA supports the USDA mission and helps ensure a healthful, stable, accessible and affordable food supply. Through these programs, FSA also fosters good land stewardship, which will help preserve our agricultural land for generations to come.
Sincerely,
Steve D. Maurer
State Executive Director, Ohio

Click here
if eGov and Online Business interest you. Contact your local FSA office if you have questions about eGov and Online Business.

Ohio FSA State Committee Members:

Nov. 4 ---- County committee ballots mailed to voters.
Nov. 11 --- Veterans Day Holiday. FSA Offices Closed.
Nov. 20 --- Last day to apply for coverage for asparagus, blueberries, caneberries, cherries, chestnuts, forage for hay and pasture, grapes, nectarines, peaches, pears, plums, strawberries, honey and maple syrup.
Nov. 27 --- Thanksgiving Day Holiday. FSA Offices Closed.
Dec. 1 ----- Last day to return voted Ballots in county committee election.
Dec. 5 --- 2014 and 2015 Margin Protection Program (MPP) Dairy enrollment deadline.
Dec. 15 ---- Deadline to report the 2015 Fall Seeded Crops for fall barley, fall wheat and all other fall-seeded small grains.
Dec. 25 ---- Christmas Day Holiday. FSA Offices Closed.

Continues -- Farm Storage Facility Loan Program.



United States Department of Agriculture
Ohio Farm Service Agency
200 North High St. Room 540
Columbus, OH 43215
(614)255-2441
Office Hours are 8:00-4:30pm EST.